The Triple Video DisplayPort Splitter Hub with Dual DisplayPort and HDMI is one of the first products on the market to support the new DisplayPort 1.4 and Display Stream Compression (DSC) 1.2 standards. DisplayPort 1.4 doubles the bandwidth of DisplayPort 1.2 to support an 8K display at 30Hz or dual 4K displays at 60Hz. DSC 1.2 allows even higher resolution such as 8K 60Hz or quad 4K 60Hz to be transmitted over a single cable.
Symptom: The Adapter is not recognized / one or more ports are not functional.
Unplug all cables and peripherals, restart the computer, and then reconnect everything.
Symptom: Video disconnection or flickering / blinking issue
Connect the included USB-C to USB-A cable to a computer USB port or charger to provide additional power to the hub for a more stable connection.
Please also update the graphics driver from the manufacturer website. For more details, refer to the links below:
If this does not solve the issue, please refer to the article below for additional troubleshooting steps
https://kb.cablematters.com/index.php?View=entry&EntryID=134
Symptom: No signal when connecting to some monitors with DisplayPort input and output.
Some monitors such as Dell P2415Q and P2715Q 4K monitors have two DisplayPort connectors. One of the DisplayPort connectors is for DisplayPort input while the other one is for DisplayPort output. The DisplayPort output is designed for daisy-chaining a second monitor. Please make sure to connect this adapter to the DisplayPort input.
Symptom: HDR does not work
Support for HDR is required across the setup. The source computer needs to support DisplayPort 1.4 and HDR output over USB-C. Additionally, the monitor or TV and source content / software need to support HDR.
HDR over USB-C is currently only supported on select devices including the Surface Pro 7 and NVIDIA RTS Series Graphics Cards (both support DisplayPort 1.4). Please check the specifications of your equipment to make sure HDR is enabled.
Symptom: Only one display is recognized by the adapter
Triple video over a single cable is realized by the DisplayPort MST technology, which is a feature added to DisplayPort with the introduction of DisplayPort 1.2 specifications. It allows a single video output port to connect multiple displays through a multi-stream daisy chain. There is, however, a limitation in how many pixels can be sent down the display pipe. For example, DisplayPort 1.2 bandwidth is sufficient for connecting only a single 4K 60Hz display. When adding a second 4K 60Hz display through the DisplayPort MST daisy chain, both displays have to reduce resolution to 4K 30Hz to share the bandwidth.
The adapter supports DisplayPort 1.4 and Display Stream Compression 1.2 (DSC 1.2 was added with the introduction of DisplayPort 1.4 specification) with backward compatibility to DisplayPort 1.2. Therefore, it supports connecting a single 8K or triple 4K displays at 60 Hz. However, this requires the host computer to support both DisplayPort 1.4 and DSC 1.2 over USB-C port as well. Currently, the only source supporting both is the NVIDIA RTS Series graphic cards. AMD's next-gen Navi graphic card may also support both.
DisplayPort Version
Resolution
Number of Displays Supported
DisplayPort 1.2
1920x1080 @ 60Hz
3
2560x1440 @ 60Hz
2
3840x2160 @ 30Hz
2
3840x2160 @ 60Hz
1
DisplayPort 1.4
2560x1440 @ 60Hz
3
3840x2160 @ 30Hz
3
3840x2160 @ 60Hz
2
3840x2160 @ 120Hz
1
7680 × 4320 @ 30Hz
1
DisplayPort 1.4 with DSC 1.2
3840x2160 @ 60Hz
3
3840x2160 @ 120Hz
2
7680 × 4320 @ 30Hz
2
7680 × 4320 @ 60Hz
1
The reason that only one or two displays are recognized by the adapter is because there may not be enough bandwidth. DisplayPort 1.4 should provide enough bandwidth for triple video but with DisplayPort 1.2, there is not enough bandwidth for triple 4K displays.
Additionally, some monitors will not free up the bandwidth even if they are set to a lower resolution. That means the first one or two monitors in the sequence may consume all of the bandwidth and leave no bandwidth for the second or third monitor, even if it is not set at its maximum resolution. In this case, the second and third monitor may not display video. If you are experiencing issues using dual or triple monitors, please follow the steps below to work around the issue if your computer is limited at DisplayPort 1.2.
When connecting two 4K displays, identical display models are recommended. The first display may default to an output 4K 60Hz resolution (if it supports 4K 60Hz) while the second display will only output 1080p due to insufficient bandwidth. Manually lower the refresh rate of the first display to 30Hz:
'Control Panel' > 'Display' > 'Adjust Resolution' > 'Display Adapter Properties'
Then, manually increase the resolution of the second display to be 4K 30Hz.
If the second display is recognized in Windows but does not light up, most likely there is not enough bandwidth remaining for the second display. Again, manually lower the resolution of the first display and connect the second display:
'Control Panel' > 'Display' > Adjust Resolution
Some daisy-chainable displays have built-in MST functionality. In this case, the DisplayPort MST (sometimes called DisplayPort 1.2 or DP 1.2) must be turned off in the display settings.
In the display configuration menu, look for the DisplayPort

Select the option to DISABLE DisplayPort 1.2
Confirm the selection
You may need to reconnect the DisplayPort cable after making this change. If you are still experiencing issues setting up two monitors, please check the article below for further DisplayPort MST troubleshooting.
https://kb.cablematters.com/index.php?View=entry&EntryID=104
Symptom: Second display mirrors the screen of the first display on a Mac computer, certain Chromebook models, and Android devices
macOS and Android do not support the DisplayPort MST technology, which is required to achieve dual extended monitors through a single video port. Chromebooks may support the DisplayPort MST technology depending on the model number. The hub only supports duplicated (mirrored) external displays on a Mac computer, Android device, or certain Chromebook models that do not support the DisplayPort MST technology.
Symptom: Audio is not transmitted to monitor through DisplayPort
Some monitors do not have built-in speakers. Therefore, audio must be transmitted separately. If audio is supported, please follow the steps below to select the correct playback device:
Windows:
1) Open the 'Sound' menu by searching or right-clicking the sound icon on the taskbar
2) In the Playback tab, select the display with DisplayPort
3) Click Set Default
4) Click OK to save the settings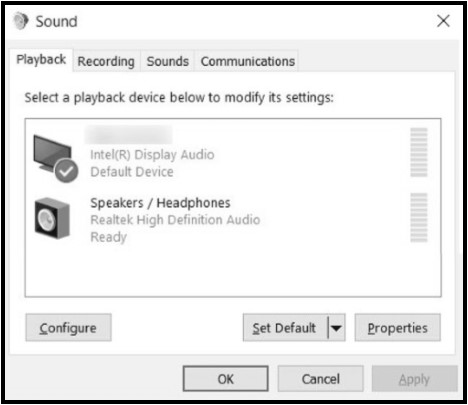 macOS:
1) Open the Apple Menu and go to System Preferences
2) Click the Sound icon
3) Click the Output tab
4) Select the display with DisplayPort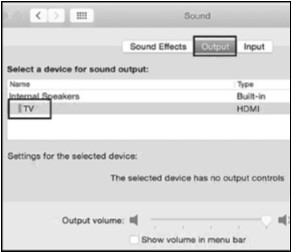 Symptom: Snow appears on the connected display or displays
To resolve issues with display artifacts, including "snow" appearing on the connected monitors, disconnect the splitter from the host computer and reconnect it to the host computer. Using a DisplayPort extension cable may prevent the issue from occurring entirely.

For more information about our USB-C products including drivers and user manuals, please visit the USB-C page on our website