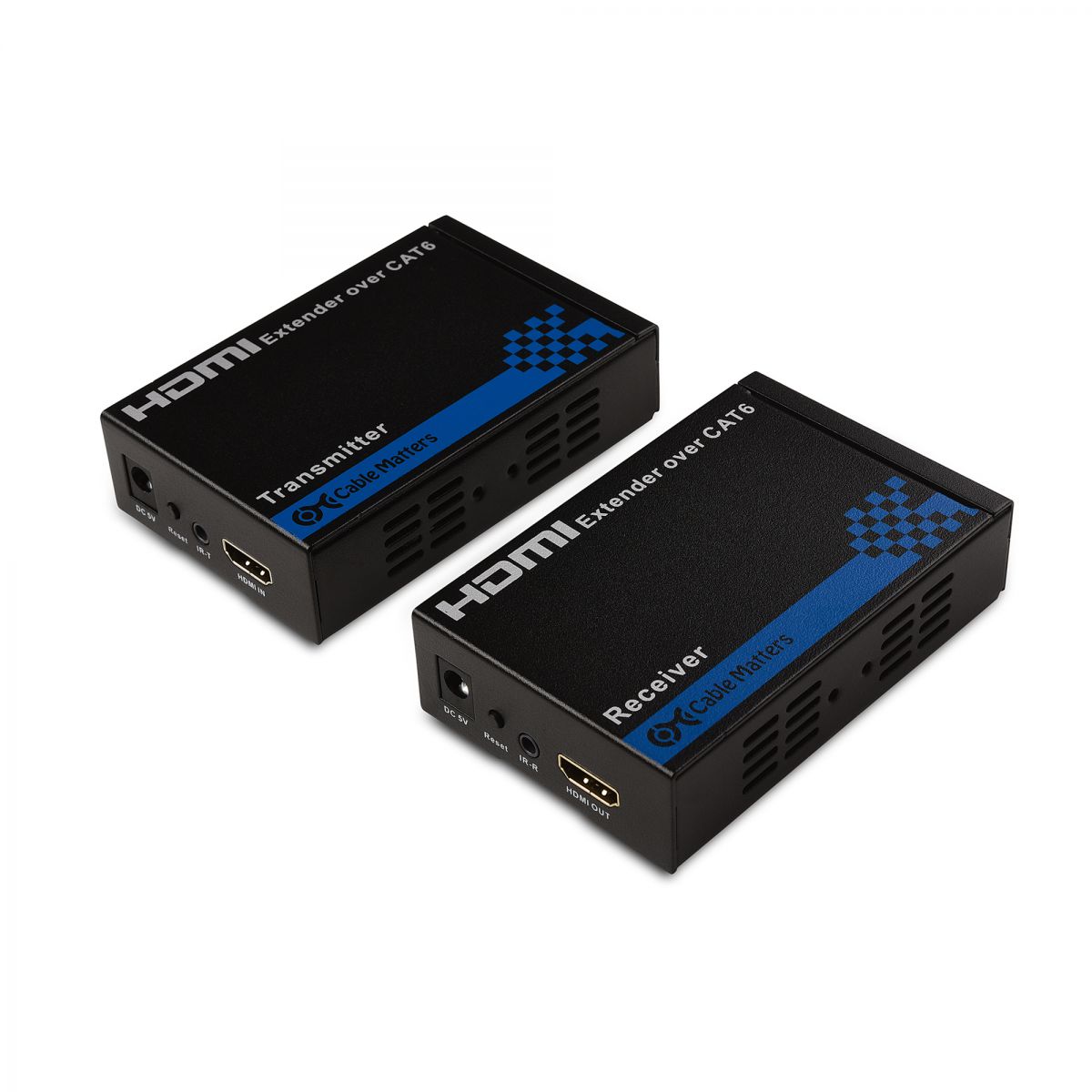 The Cable Matters HDMI Extender over Ethernet boosts the length limits of HDMI by carrying the signal over a Cat6 Ethernet cable. This extension method enables you to carry an HDMI connection up to 300 feet on a single cable. Connect multiple receivers through a dedicated Ethernet switch.
General Troubleshooting Steps
Try disconnecting and reconnecting all cables.
Power down all devices and the extenders, and power them back up.
Test the Cat6 cables and HDMI cables separately.
Press and hold the RESET button on the extenders for 10 seconds to reset extender settings.
If you are using a network switch to connect the extenders together, test the switch with other devices.
Up to 300 feet of Cat6 cable is supported. Make sure you do not exceed the length limitation.
Known Issues
The display flickers or the picture appears degraded.
Ensure you are using high-quality Cat6 Ethernet cables. Lower quality Ethernet cables may cause visual issues. Check the connection carefully for any bending or kinks in the cable. Sharp bending may reduce signal integrity.
High electromagnetic interference or radio frequency interference may cause picture quality issues. The picture may flicker or there may be other display issues. To resolve this issue, use shielded Cat6 Ethernet cables.
The extender does not function properly over a network switch
You must use a dedicated network switch. Verify you are using a dedicated network switch. A gigabit network switch is recommended.
The Quality-of-Service (QoS) feature built into many network switches may interfere with video transmission. Disable QoS on your switch if you experience latency or other malfunctions. Consult your network switch's instructions for information on disabling QoS.
Up to 8 receivers are supported. If you connect more receivers, they may not function correctly.
A display that does not support HDCP does not work, or a display connected via a converter cable / adapter does not work.
Displays and adapters that do not support High-Bandwidth Digital Content Protection (HDCP) are not compatible with the extender system. The receiver will always transmit an HDCP signal, even if the host device is not playing HDCP-protected content. HDMI to VGA adapters, HDMI capture cards, and HDMI A/V Mixers like the Roland Streamer are also not supported due to HDCP restrictions.