Cable Matters released two firmware updates for its USB-C Switch with HDMI and DisplayPort. These updates resolve several compatibility and performance issues. Follow the instructions below to update the device firmware.
Please note, if you purchased a new USB-C KVM Switch after 10/29/2022, then your switch is already up to date.
For optimal performance of the KVM switch, please also install the firmware update found here.
Applies to
This firmware update applies to the following Cable Matters products:
Resolved Issues
This firmware update resolves the following issues:
No display after switching between hosts issue. This firmware resolves an issue where no display may be on the two connected monitors after switching between a Windows OS and macOS host multiple times.
Firmware Update Instructions
1) Connect two USB-C cables to the KVM Switch, and switch to host 1. The cable connected to port 1 should be the cable that is connected to the laptop performing the update. The cable connected to port 2 can be connected either to a USB-C power adapter, or a USB C host, as long as it is providing power to the switch. This way, both port 1 and port 2 will be updated simultaneously.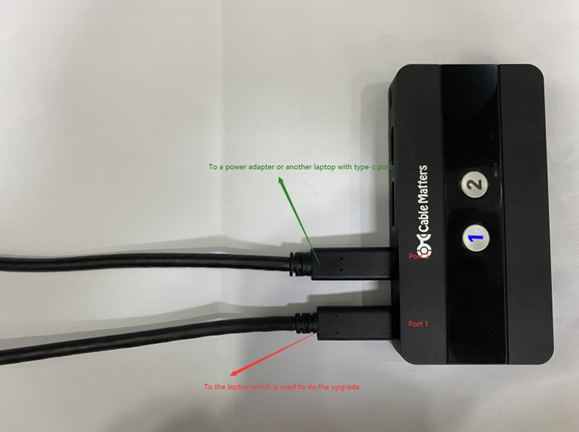 2) Click here to download the firmware update tool.
3) Unzip the firmware update tool and launch the "TypeCDump" application. If a prompt asks to run the program as an Administrator, click yes.
4) Choose the following settings in the TypeCDump application:

5) For steps 4 and 5, choose the same firmware file which is included in the firmware update tool download above.
6) Click OK, and then restart the KVM with the power switch on the side.

Firmware Update Troubleshooting