Gold Plated Bluetooth 4.0 USB Adapter for Windows 8.1/8/7/Vista/XP
(SKU: 604001)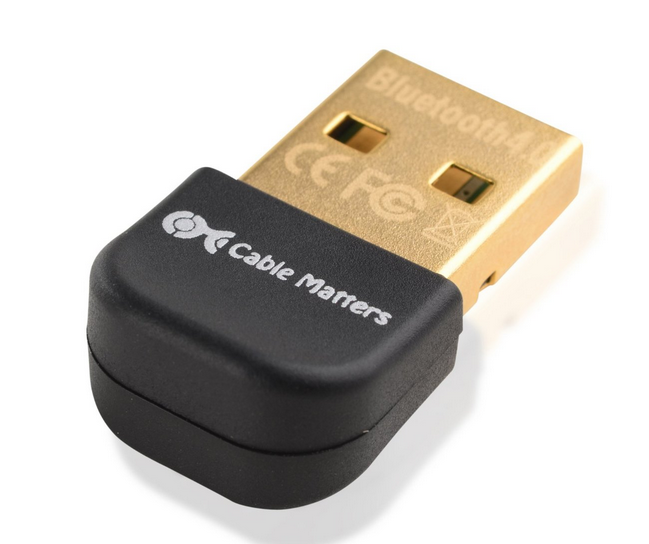 Bluetooth® 4.0 is the most recent version of Bluetooth wireless technology. It includes Classic Bluetooth, Bluetooth high speed and Bluetooth low energy protocols. Bluetooth high speed is based on Wi-Fi, and Classic Bluetooth consists of legacy Bluetooth protocols. Bluetooth's low energy enables new Bluetooth Smart devices to operate for months or even years on tiny, coin-cell batteries.
PRODUCT OVERVIEW
Cable Matters Bluetooth® 4.0 USB Adapter is fully compliant with Bluetooth 4.0 Specifications and features its low energy cost. It lets you communicate wirelessly with Bluetooth devices such as cell phones, PDAs, mice, keyboards etc.

SPECIFICATIONS
Class 2 Bluetooth version 4.0, backwards compatible with Bluetooth 1.0, 2.0, and 2.1
Dual-mode Bluetooth transfer
Low-power selectable 1.2 to 3.0 VI/O
Supports Bluetooth voice data
WLAN coexistence interface
Supports profiles: Networking, Dial-up, Fax, LAN access, Headset
Operation System: Windows XP/Vista/7/8/8.1. Does NOT support Mac OSX
Symbol Rate: 3 Mbps
Receiving / Sending Range: 20m
Macs have internal Bluetooth modules. As a result, the adapter will have a conflict with Mac's internal Bluetooth Module. It is not recommend to use the adapter on Macs.
INSTRUCTIONS
Plug and play after one time driver installation.
Important Note for iPhone/iPad users: iOS does not allow file sharing to a computer through Bluetooth while using our adapter. However, you can still play music on your device from a computer.
TECHNICAL SUPPORT
Before You Start
Please remove any previous version of Bluetooth software that may exist in your system.
The removal procedures are as follows:
For Window Vista/7/8
Open Programs and Features by clicking the Start button , clicking Control Panel, clicking Programs, and then clicking Programs and Features.
Select any Bluetooth software, and then click Uninstall.
For Window XP
Click Start, click Control Panel, and then double-click Add or Remove Programs.
In the Currently installed programs box, click any Bluetooth software, and then click Remove.
If you are prompted to confirm the removal of the program, click Yes.
Installing Driver
Ensure the Bluetooth adapter is plugged in your computer before installing the software.
Insert the Installation CD.
You can also download the driver (at the bottom of the page):
http://www.cablematters.com/download
Select "Run setup. exe"
If the program does not automatically appear, please go to Start
and click Computer. From there, right-click on your CD-ROM
and click Open. Then double-click on the file labeled "Setup".
Choose the setup language to install. If an older version of CSR Harmony is installed on the machine, the Setup wizard provides a warning. Go to step 5. If no older version of CSR Harmony exists, go to Step 7.
Read the warning and select OK to uninstall the earlier version. The Setup wizard returns to the Installation page. The Welcome wizard appears.
Click Next.
A License Agreement window appears.
Select I accept the terms in the License Agreement and click Next.
The Destination folder window appears.
Click Next to install in the default installation directory:
C:\Program Files\CSR\CSR Harmony Wireless Software Stack
To install CSR Harmony in a different path, click Change..., choose the path for installation and click Next.
The Check Bluetooth Dongle window appears.
Ensure the Bluetooth dongle is plugged in (otherwise, CSR Harmony drivers may not load properly).
The Ready to Install window appears.
Click Install.
The Setup Complete Success window appears.
Click Finish.
How to find whether your computer recognizes the adapter or not
Please go to "Control Panel".
Click "Device Manager".
There should be a "CSR Bluetooth Radio" when you click to expend "Bluetooth Radios".
If you find a "Generic Bluetooth Radio" in Step 3, please right-click it and select "Update Driver Software". Choose "Search automatically…" Wait for a few minutes. After the driver update finished, you should see "CSR Bluetooth Radio".
Connecting Your Bluetooth Devices
Click "Show hidden icons" on the lower right corner of your desktop.
Right-click the Bluetooth icon, and click "Add Bluetooth Device".
Then you can to select the Bluetooth device type you want to connect.
If you want to initiate the pair from your mobile devices, you need to right-click the Bluetooth icon on your computer and select "Turn Discovery On".
In order to pair with your computer, please turn on the Bluetooth module on devices you want to connect and make them visible/discoverable to other devices.
Then you will see your Bluetooth device.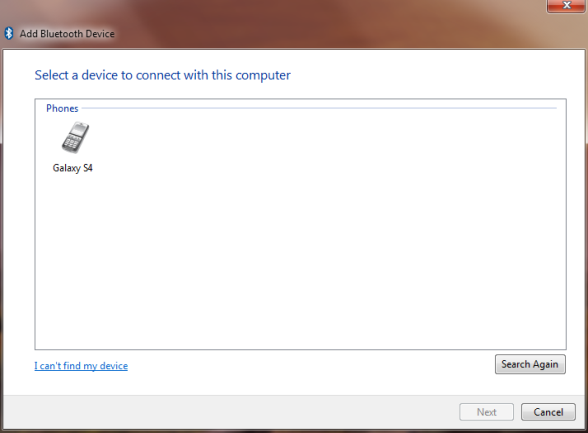 Click the device and click "Next".
Then the pairing process will begin.
If the computer cannot find your device,
please click "I can't find my device" for help.
After paired with your device, please right-click the Bluetooth icon, and click "Show Bluetooth Devices". The right-click your device and click "Open Services".
Then please enjoy the Bluetooth services.
If you have any connection issues while using the adapter, please refer to the following page.
http://www.cablematters.com/bt
We do value your feedback. If you have any question/suggestion, please feel free to contact support@cablematters.com . We will reply to you promptly.