The most common issue we hear about when using our USB to Ethernet adapters with a Mac is an inability to connect to the network. If the USB port is functioning properly and the ethernet cable used is not defective, are two common causes that could be to blame.
Drivers Are Not Properly Installed
Unlike previous versions of this adapter, our current Gigabit Ethernet and Fast Ethernet network adapters do not require the installation of drivers. The software required for these adapters is built into the MacOS and upon connecting for the first time the device should be recognized and work properly.
There are ocassions, however, where the driver may not properly load in the MacOS and a manual installation is required. This is very rare and typically the result of a failed component within the computer instead of a defective adapter component. The other ocassion is a MacOS update that has caused the driver to load properly. Also, unless explicitly stated, the drivers are recommended for only the latest current public release of the MacOS version you are using. While public beta versions may work, they are not supported due to the substantial changes that can be made to the OS based on user feedback before the software is released. You can find the driver installation software for your device by following the links below:
Note: Cable Matters changed it's chipset solution for this product in 2016. Click here if you purchased your adapter before September 2016.
Note: This link also directs you to RealTek and the driver download page is similar but they are different pieces of software for different chip solutions.
Scroll to the bottom of the page where you will find the software link for Mac. It will download a software package file. After you double-click to run the installation it will walk you throught the steps and reboot to complete the installation. Below is an example of the RealTek download page, Download file, and installation confirmation.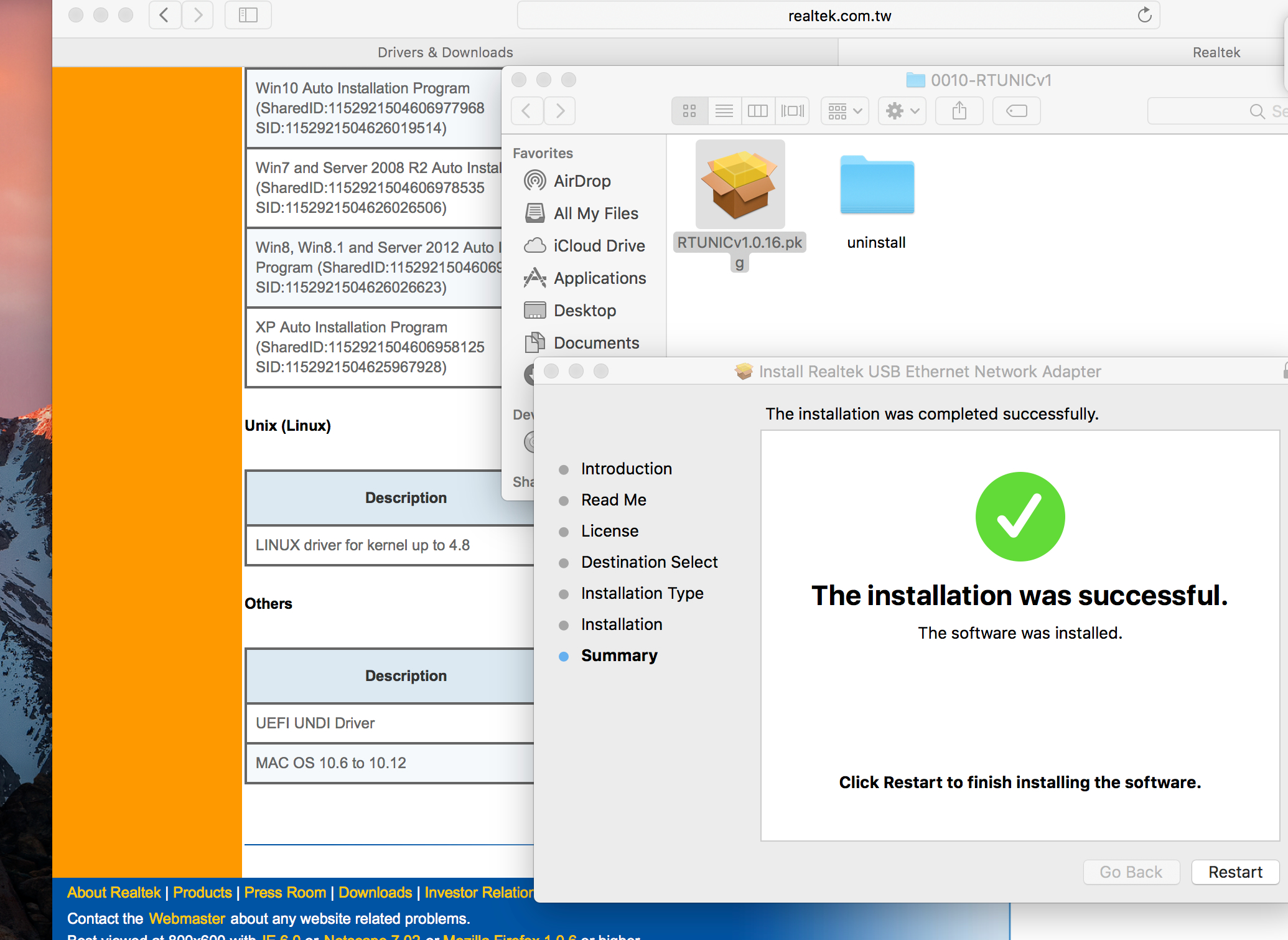 Reinstalling Network Adapters
Another possible cause for a failure to connect your adapter to your LAN network is that the network adapters as defined in the OS have become corrupted or altered in some way and need to be reinstalled. Think of this as similar to a software program or app that doesn't install properly and needs to be reinstalled.
To walk through this process, we have created this useful guide: Mac OS X- Reinstalling Network Adapters
If you still experience issues after performing these troubleshooting steps please contact us at support@cablematters.com. Be sure to provide your order number for your purchase as well as the version of Mac OS you are using.