SuperSpeed USB 3.0/2.0 to HDMI Adapter
(SKU: 103067)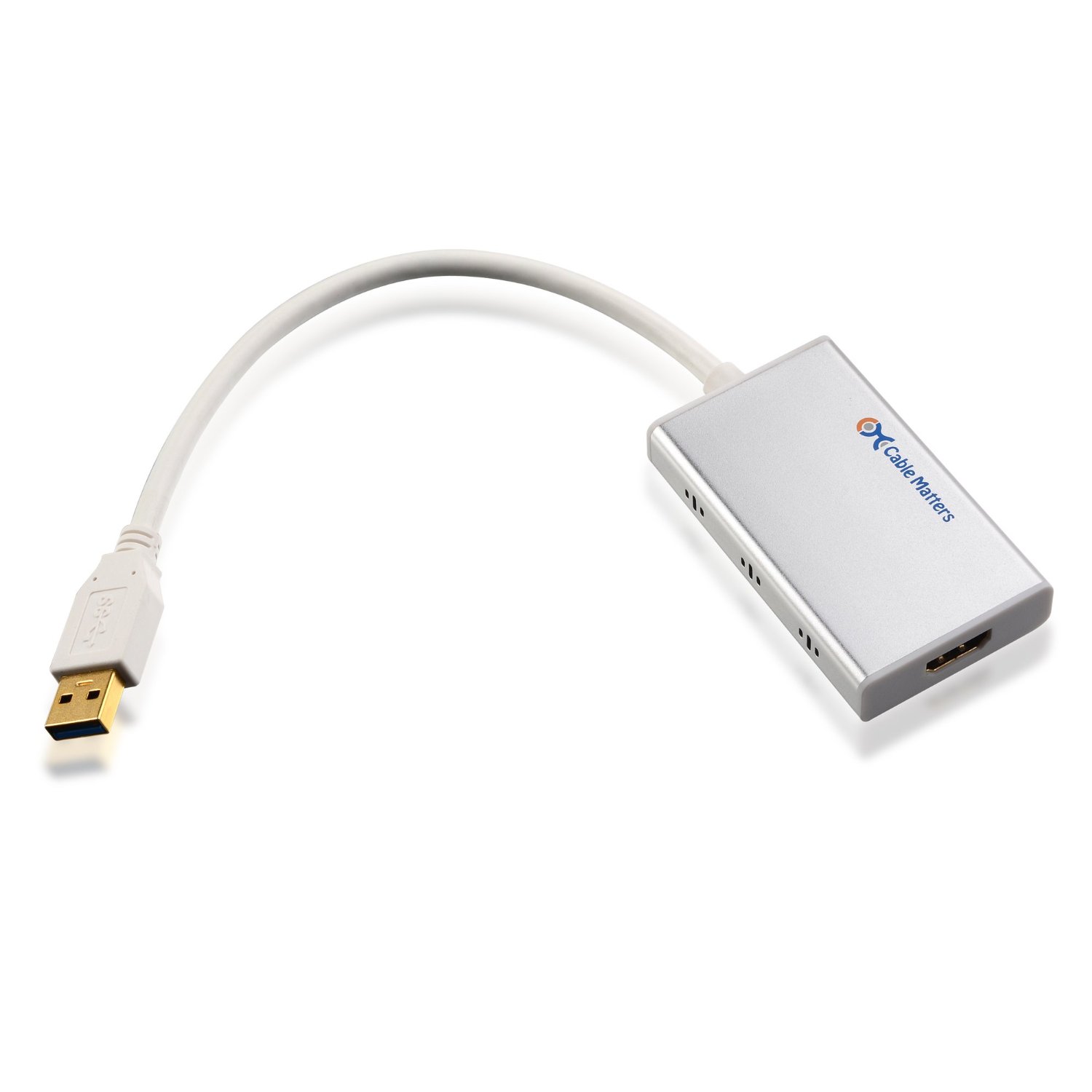 USB 3.0 is the second major revision of the Universal Serial Bus (USB) standard for computer connectivity. It adds a new transfer mode called "SuperSpeed," which is capable of transferring data at up to 5Gbit/s—more than 10 times as fast as the 480 Mbit/s top speed of USB 2.0. A USB 3 port is usually colored blue, and is backwards compatible with USB 2.0.
PRODUCT OVERVIEW
Cable Matters SuperSpeed USB 3.0/2.0 to HDMI Adapter adds an HDMI port to a laptop or desktop through a USB port. It leverages the high-bandwidth (5 Gbps, 10x faster than USB 2.0) SuperSpeed USB 3.0 interface and supports high resolutions of 2048x1152 / 1920x1200. It also provides a convenient external video solution that makes it easy to add multi-monitor capability to a USB 3.0 enabled desktop or laptop computer.

SPECIFICATIONS
Supports resolutions up to 2048x1152 / 1920x1200
Supports USB 3.0 SuperSpeed with 5 Gbps Bandwidth (Backward Compatible with USB 2.0)
Supports Hot Swapping
Supports up to six additional (one adapter required per display).
Audio Output: 2-Channel LPCM
Power Requirements: Powered via USB
COMPATIBILITY
Mac OS X: 10.6-10.9/Mavericks
Please note: The adapter only works with Intel-based Macs, NOT PowerPC based Macs.

Windows: Windows 8 64 bit/32 bit
Windows 7 64 bit/32 bit
Windows Vista 64 bit/32 bit
Windows XP 32 bit
INSTRUCTIONS
Easy set-up. Plug and play after one time driver installation.
TECHNICAL SUPPORT
Please download the latest driver here:
For Windows:
http://www.cablematters.com/download/USB3_to_HDMI/SgfxSetup-5_3_60_6579.exe
For Mac,
http://www.cablematters.com/download/USB3_to_HDMI/SGFX_Installer_1_2_2_1.zip
Important Note for OSX 10.8/10.9 Users
For OSX 10.8.X, please skip the "setup" and go to the "installer" folder to install the 10.7.X Lion driver directly. That driver is compatible with OS 10.8.X Mountain lion.
For OSX 10.9/Mavericks, please read the instructions:

Control + Click to open
If you've used our adapter on an older OSX and you upgrade your OS to OSX 10.9/Mavericks, you do not need to reinstall the driver.
How to get multiple displays (up to 6) on Windows?
Windows users need to burn different Serial Numbers to each adapter in order to get multiple displays.
Mac User do NOT need to do that.
Please read the instructions here:

Control + Click to open
To configure video display and audio output, please read the user manual:

Control + Click to open
We do value your feedback. If you have any question/suggestion, please feel free to contact
tech-support@cablematters.com . We will reply to you promptly.