System Requirements:
While the Thunderbolt 3 to Dual HDMI Adapter utilizes the reversible USB-C connector, it only supports Thunderbolt 3 enabled computers such as the 2016 and 2017 MacBook Pro. It will not work with computers that are equipped with USB-C but not Thunderbolt 3 such as the Lenovo Yoga 900 or a Chromebook. Check for the Thunderbolt symbol near the port on your computer or refer to the below list.
List of Thunderbolt 3 Enabled Computers
Dual video-out not working, only one display has video:
In order to output video to dual monitors, the computer must support two displays via Thunderbolt 3. Some Thunderbolt 3 enabled computers such as the Razer Blade Stealth, Lenovo Yoga 720, and HP Spectre x360 do not support a second display via Thunderbolt 3. Gtrusted.com maintains a list of computers tested that support a single display or dual displays. If your computer is not in the list, please consult the manufacturer for this information.
https://gtrusted.com/technology/thunderbolt/thunderbolt3-hosts
If computer is listed as dual HDMI and only one individual port works, it may be defective. Please contact us for a replacement.
Symptom: The adapter is not functioning properly on a Windows computer with Thunderbolt 3. Symptoms include no video, flickering video, or low image quality.
Solution: Update BIOS, Thunderbolt 3 firmware, Thunderbolt 3 driver, and Intel Graphics driver from the manufacturer's website. For more details, refer to the articles below:
BIOS, Firmware and Driver Updates
Update Intel Graphics Driver for Windows computers
Symptom: The adapter is not recognized / one or more ports are not functional
This adapter requires 5V 3A bus power to function properly. Some laptops, such as the Dell Latitude 7370, only output 5V1.5A bus power through Thunderbolt 3, and therefore are not supported. Contact the laptop manufacturer directly for this information.
If you laptop supports 5V 3A bus power through Thunderbolt 3, try unpluging the adapter and all cables, restarting the computer, and then reconnecting everything.
Symptom: Ethernet or USB ports are not functioning properly in Windows 7
Solution:
1. Go to www.cablematters.com/downloads
2. Select the correct product from the list.
3. Download both the drivers for Ethernet and USB controller.
4. Install the driver and reboot your computer.
Symptom: Only receiving 1080p resolution when using this adapter with HDMI to DVI adapter or cable.
The HDMI port does not support DVI Dual Link and can only support resolution up to 1080p when converted to DVI.
Symptom: laggy mouse and missing keystrokes when connecting wireless mouse/keyboards to USB 3.0.
The 2.4 GHz band is a widely used unlicensed radio frequency band for devices such as wireless routers, as well as wireless PC peripherals such as a mouse or keyboard.
Though USB 3.0 has a 5 Gbit/s signaling rate, the noise from USB 3.0 data spectrum can be high in the 2.4–2.5 GHz range. This noise can radiate from the USB 3.0 connector on a PC platform, the USB 3.0 connector on the peripheral device or the USB 3.0 cable. If the antenna of a wireless device operating in this band is placed close to any of the above USB 3.0 radiation channels, it can pick up the broadband noise and may result in a drop in throughput on the wireless link.
The resolution is to connect the wireless mouse / keyboard dongle to the USB 2.0 port on the adapter.
Symptom: Ethernet disconnects with certain Dell computers.
Some Dell XPS and Precision models may contain a version of internal Wi-Fi adapters that interfere with the Ethernet connection over USB-C. This issue can be resolved by lowering the power output of the onboard Wi-Fi adapter.
1. Navigate to Control Panel > Device Manager
2. Select Network adapters. Right-click on the Dell wireless adapter.
3. Select Properties. Click on the Advanced tab. Select Power Output and select 75%.
4. Disconnect the cables and Multiport Adapter, restart the computer, and reconnect everything.
Symptom: Audio is not transmitted to monitor through HDMI
Some monitors do not have built-in speakers. Therefore, audio must be transmitted separately. If audio is supported, please follow the steps below to select the correct playback device:
Windows:
1) Open the 'Sound' menu by searching or right clicking the sound icon on the taskbar
2) In the Playback Tab, select the display with HDMI
3) Click Set Default
4) Click OK to save the settings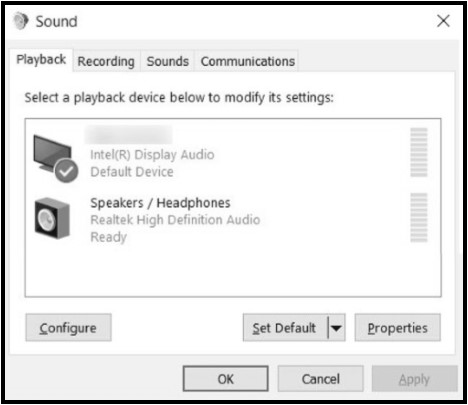 MacOS:
1) Open the Apple Menu and go to System Preferences
2) Click the Sound icon
3) Click the Output tab
4) Select the display with HDMI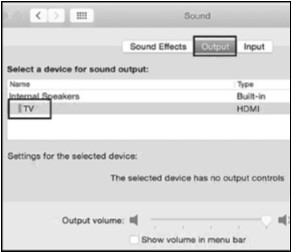 For more information about our Thunderbolt products including drivers and user manuals, please visit the Thunderbolt page on our website.